Weekly Psychic Prediction Feb 8-15-16
Weekly Psychic Prediction
Feb 8-15-16
Seer Tamare White-Wolf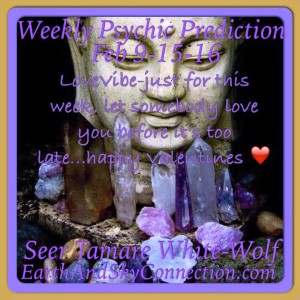 Love-you might feel you won the war on love, with lots of communication and time spent on nurturing that love… Something still seems amiss. It might just be self-preservation holding you back, its worth your consideration, your instincts are good so stand back, what's your hurry! It's good to take your time before any long term decisions are made however don't waste anytime when you know your not compatible! Life …is short, time is precious however "you gotta let somebody love you before it's too late" happy valentines regardless, just for now enjoy the love vibe and re-evaluate next week!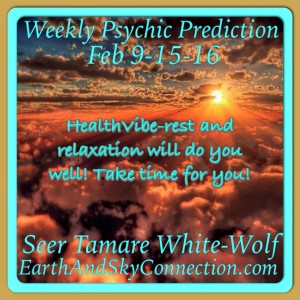 Health-many will be struggling with the typical flu and cold bugs, take special measures to combats such ailments. Oil of oregano, garlic, ginseng, echinacea, vitamin C,D in plentiful quantities will help, and a trip to your medical professional just to confirm your coarse of action is working! Bundle or cuddle up its going to be a cold valentines weekend! Include soups, herbal teas, limit dairy products and sweets now and for long term! Low energy is expected for many so honour your body and just rest until you feeling better!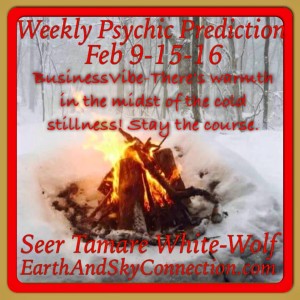 Business- another week of hard work and little change, at least to the eye! To be perfectly clear just stay the course, there are always limitations and restrictions in the way of greatness! There may be unrest among those working under your direction, those you have aligned with may not be as committed as you first thought. Re-evaluate your position with them and be ready to reassign them, retrain them or let them go as they need to follow their hearts too. Be mindful of the whole picture, respect the existing parameters and just work with what you can.
‪#‎WeeklyPsychicPrediction‬ ‪#‎TamareWhiteWolf‬ ‪#‎Psychic‬ ‪#‎Seer‬ ‪#‎Love‬ ‪#‎Health‬ ‪#‎Business‬