Raven Black 
Independent and intriguing, comes a poet and her minstrels Raven Black. She is known to many as a soul singer. Raven Black has performed all over Ontario at some of the best pagan festivals for many years now. We of the Paganfest  Series welcome her to perform at  Paganfest July 18th-23. You won't want to miss out, and if by chance you do, look for her around the bonfires. Or shall we say listen to her amazing voice as it travels well in the park at night.

RAVEN moved to London, Ontario and found a few kindred spirits and they continue to play with their love for music & nature…which explains why they choose an organic spiritual sound. Shawn is not only the other half of Raven Black, he is one of Melissa's muses, together they write informative lyrics with smooth acoustic inspiration! Their influences are folk, alternative and blues-inspired with a few twists. They play with true conviction and emotion! The self-titled independent CD has haunting, activating lyrics with intent of emotional journeys. Travel with her in song! Don't miss out!
Singer, Songwriter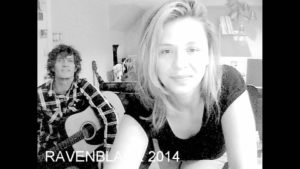 Shawn Lint songwriter, Rhythm guitar, Djembe
This Canadian Duo, Melissa Robins, and Shawn Lint take you on a journey of the ethereal. They are inspired by earth and nature.
They perform their greatest hits. Their demo has sold over 2100 copies
Melissa Robins on Vocals
Shawn Lint on Strings
Buy their latest live release Raven Black- Live from the Waters Edge
www.ravenblackearth.com
They are available for bookings, please contact them at 2269852249
We, are hoping to travel all over Canada and spread our sound at a festival near you! Organizers and co-coordinators please contact us for a  free Promo Package with cd included visit our contact page!
Sunday @ the stage 6:00