No Tax on Pendulums and CDs SALE 
No Taxes on Pendulums and CDs SALE In the pursuit of equality in this time, we are offering no taxes to all on a selection of uplifting CD's as well as our entire selection of pendulums. In celebration of the upcoming Spring Equinox and the welcoming of the new season, this selection of music has been chosen for the purpose of renewal and re-energization of one's spirit and energy. As the seasons change, so do our vibrations. The pendulum can be used in this time to clarify one's purpose, and to find balance.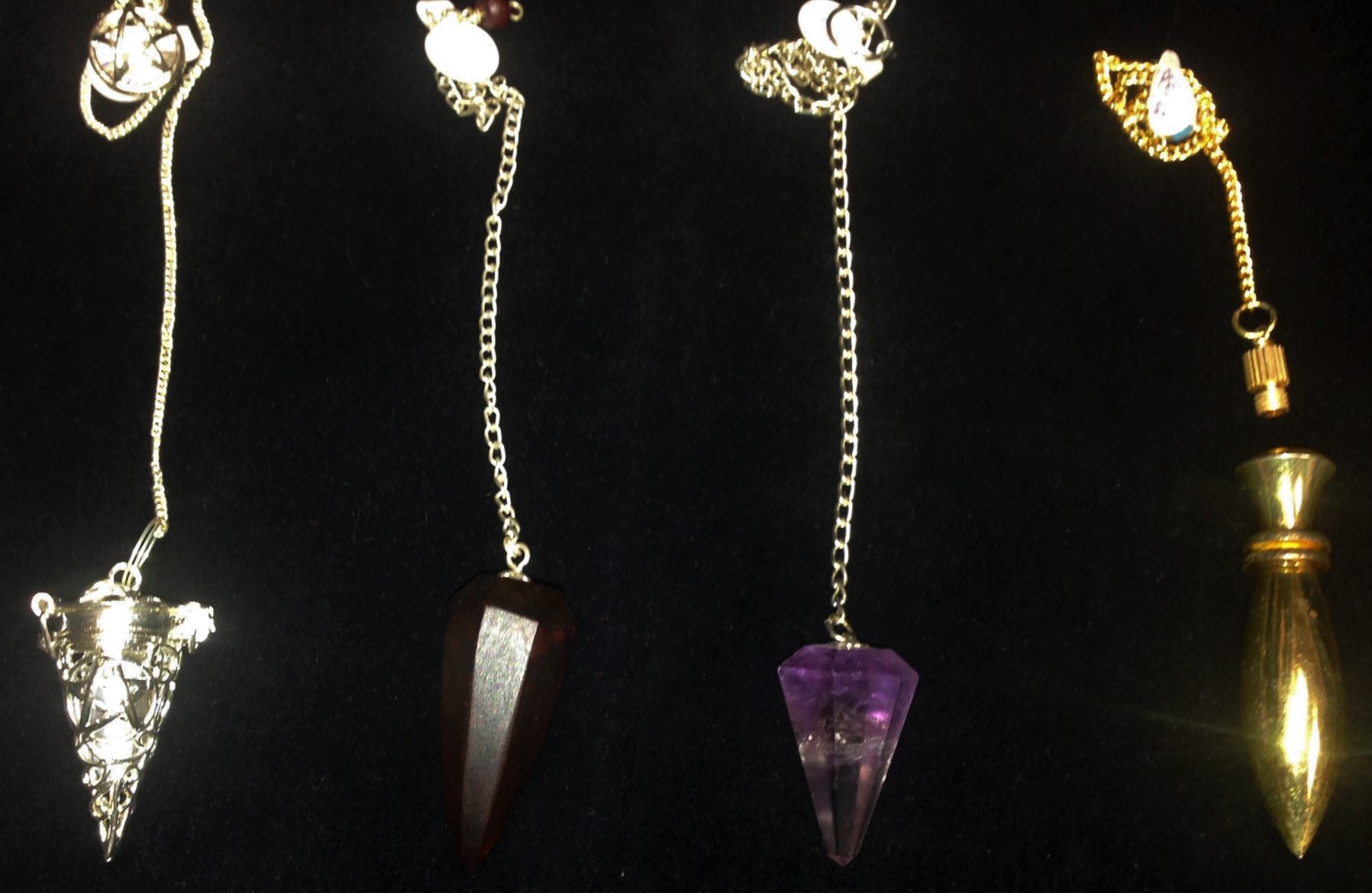 1st pendulum is a Pentacle metal silver plated locket. It opens to include any crystal or herb to suit one's needs.
2nd pendulum is wooden, loved by many earthy folk. Energies dance through this pendulum, feeding off of its lighter weight and natural connection.
3rd pendulum is an Ametrine point, which is especially helpful when used in healing. In particular, Ametrine aids around addictions or obsessions as it is a combination of Amethyst and Citrine, and their vibrations.
4th pendulum is a brass/metal chamber which opens to include someones DNA (such as hair), in order to ascertain allergies and other impurities that may affect one's health.
All pendulums assist in balancing one's energy and health realted issues and are an awesome tool for energy healers across the planet. Pendulums draw a more personal connection between one and their higher self, allowing you to obtain answers and advice to things you may be unsure of.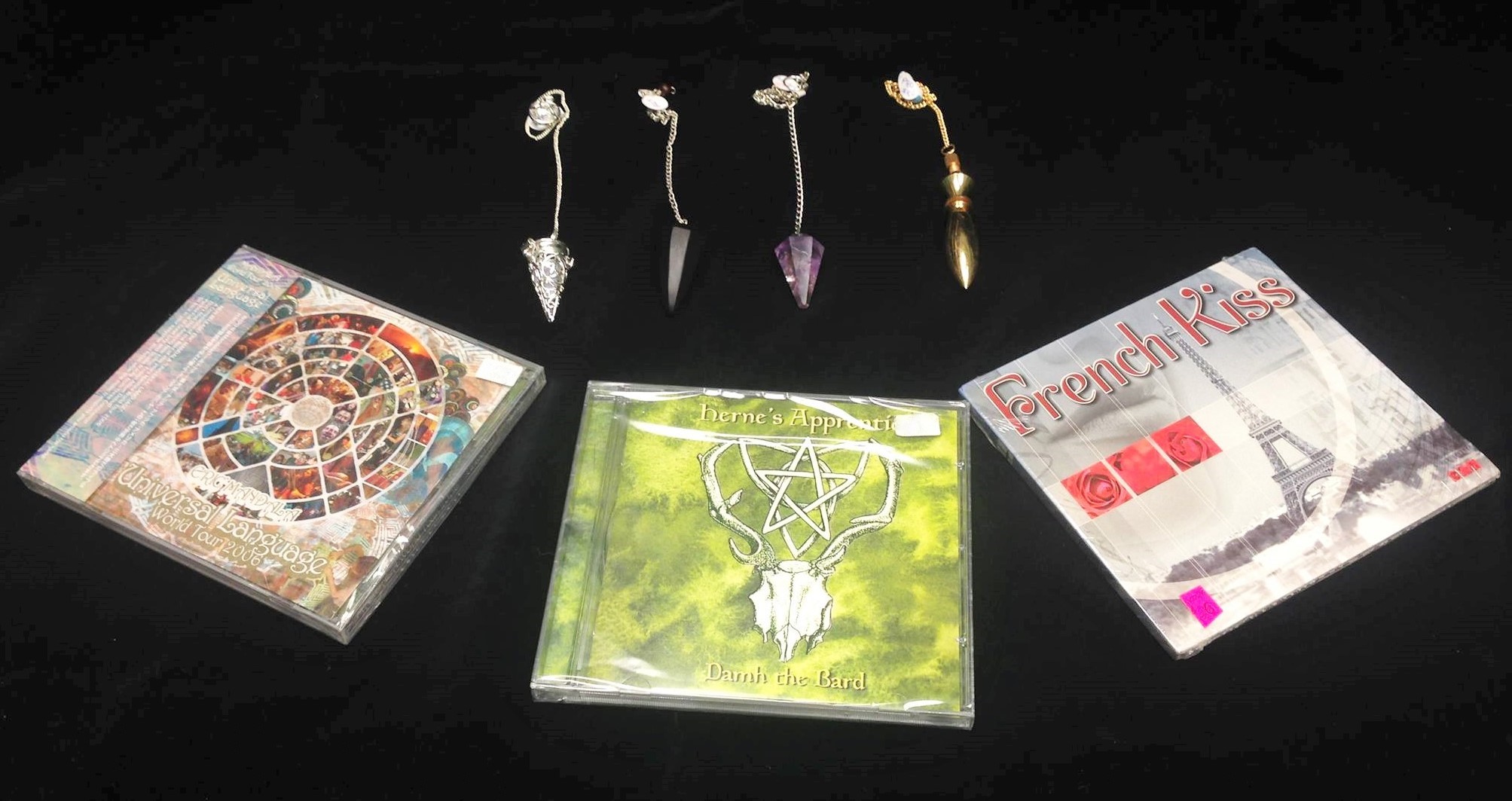 1st CD is Eric Mandala, who has graced our stages of Paganfest. Be transported all around the world by this CD, which  is a compliation of the best of the Mandala World Tour of 2006.
2nd CD is Damh the Bard, who is an Irish-Celtic muse who has written both music and ballets to tell the stories of the ancient ones of the Celtic-Druid traditions. We have a number of his CD's, and it is our hope to one day have him performing on our stage at the Paganfest Series here at Earth and Sky Connection's property in Barrie, Ontario. Each of his CD's are a delight and a resource for those investigating the old Pagan ways. We promise it will get you dancing and lifting your legs, as well as smiling happily as a knowledge of the old ways permiates your spirit through music.
3rd French Kiss is born for lovers but perfect for those who like to meditate, and I for one (Tamare) use it to clean the house. It gets me going after a great start. We have a number of CDs like this one, each of them slightly different but just as uplifting and exciting. "This CD is awesome for tantric connections"
Music has been used as an amazingly useful tool of healing for millenium. Our selection of music ranges from calm and ambient to uplifting and inspiring tales of the old ways. This time of year is the time of growth and rebirth and as such, all are encouraged to come on in and browse our amazing selection of unique and inspiring tunes and find the perfect music to realign oneself to this special time of year.
If you buy two or more of any combination of CD's or pendulums, gain an extra 10% off + No Tax on Pendulums and CDs SALE
Sale goes from March 29th April 9 , 2016.