Musicians of Fiddlehead Soup @Paganfest July 17-22 2019
Earthy and approachable, Fiddlehead Soup presents music sourced from 3 continents and 5 centuries! Playing songs and tunes from Scandinavia, Northern Europe, Scotland & Ireland, they skillfully weave in their own artfully constructed tunes and songs. Fans of Omnia and Faun may recognize some familiar melodies among the band's repertoire. You may have had the opportunity to hear them at WiccanFest (One of my favorite pagan festivals outside or ours lol)
Fiddlehead Soup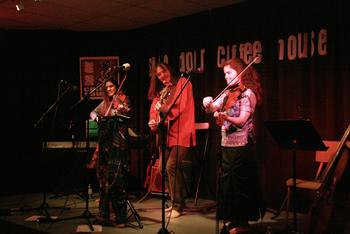 revolves around mother-and-daughter fiddlers Glenna Hunter & Ursa Meyer (who also play keyboard, 'cello & viola) and veteran folkie Doug Hendry on 12 string guitar and cittern. Joined by the incomparable Jason Sonier on percussion (and puns) and the haunting vocals of Elizabeth McNally, Fiddlehead Soup is a delight for the ears. But don't expect to be sitting down for long, as the hypnotic energy of the tunes will have you up and dancing before you're even aware you're on your feet.
"World folk and fiddle music group Fiddlehead Soup is an energetic collection of musicians as engaging as they are talented—they start with a haunting Celtic, medieval groove based around native Scotsman Doug Hendry's open tuned 12 string guitar and warm tenor voice, then they weave it into a gypsy tapestry with mother and daughter Glenna Hunter and Ursa Meyer's twinned fiddles and voices.
"Singing songs from the traditions of multiple countries and in multiple languages as well as their own artfully constructed material, Fiddlehead Soup does an incredible job of making the difficult look not only effortless, but fun!" – Bruce Enloe, the branch
For more information on the band, click here.
Be sure to attend their workshop at Paganfest 2019 Making Dance Together too! Click here for more information.
They will be taking the stage Friday July 19th around 9pm.