Skylar's 1st Anniversary Sale StoreWide!
It's hard to believe but a year has already passed!
One Year ago June 1st, The wonderful Tamare WhiteWolf passed her downtown stoppe onto her lovely son Skylar Pink! Skylar was raised in the Shoppe and after all knew it like he back of his hand was obviously primed his whole life for this special day! He has taken the responsibility with grace, honour, and is very grateful for the opportunity to do so! You will see him often as he has made it his home away from home, and to celebrate his one year Anniversary, WE HAVE AN AMAZING SALE ON THE ENTIRE STORE!!
Wont you please come out to show your support this month!
The second Shoppe located at 461 Penetanguishene Rd is still open , owned and operated Tamare however only open Friday to Monday. Skylar's sale doesn't apply there, however because she is away travelling Europe until end of June we have another opportunity for you with the "Boss is Away SALE"!
No TAX StoreWide and an Additional 20% Off on crystals that come from where ever she is traveling to, such as Onyx, Quartz, Hackminite, Obsidian, Marble, Soapstone.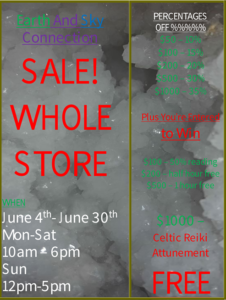 Everything is included in this sale! From Herbs all the way to crystals and jewelry!
Sales are based on Percentages of what you spend.
Spend
$50 get 10% off
$100 get 15% off
$200 get 20% off
$500 get 30% off
INCLUDED IN THIS SALE
We are offering a Raffling Draw at the end of the Month!
For every Price range you hit, you get Entered into the raffle!
Get the chance to win!
$100 – for Half off a reading!
$200 – gets you a FREE 30 min Reading
$500 – A FREE Hour Reading
$1000 – GETS YOU A FREE CELTIC REIKI ATTUNEMENT
Always be sure to check out our Facebook to keep up to date with our most recent news!
https://www.facebook.com/EarthAndSkyConnection/