Sacred Drum Making Workshop @Paganfest With Medicine Woman Biljana 
Its time to create, birth and feast your own sacred shaman's drum, in this powerful drum making workshop! These drums have the Shoshone Native American style with Dream Catcher Webbing too, if you so desire, as these drums help us to create and catch our dreams!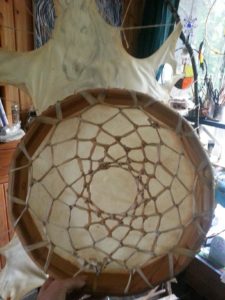 The drum has long been associated to our heart beat, which it is said that by playing them we align ourselves to our heartbeat, to our authentic inner being. They are representative to the mother and our feminine side as well the mallet/drumstick associated to the father and our male side! It has been used to assist with anger and sadness! It has been known to heal illness of all kinds, and emotional issues among-st the tribes, clans and communities! There are many legends from various native, Celtic, Asian and African tribes who are the originators of the Drum as it is a global medicine tool used by all aboriginal and Indigenous people!
During the making of the sacred drum, messages will come through which we will discuss as each drum is individual like a child and have their own personalities, each often carry messages for the creator! Traditional teachings will be given, the many legends will be shared in stories. A traditional feast will follow on the last day where we each bring a feast food to the ceremony, where we awaken the drum and sing it to life!
What to bring a square yard of red cotton fabric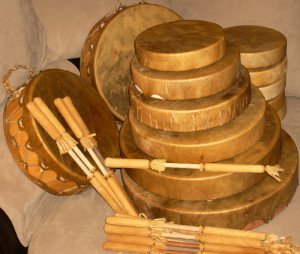 A sacred stick you may have that could be transformed into a mallet
Woman please wear a skirt!
We will be working with White Tail Deer hide and white pine frames( provided by First Nations, Turtle Clan)
What to bring: comfortable clothing, snack/ lunch; open mind & heart ~
Please be alcohol and commercial perfume free.
A feast food (to be discussed after the first day we meet) to be brought on the last day we meet!
Biljana Banchotova <Click to find out more about Biljana
Sacred Medicine Woman message ~
"I am "drumming about" a Drum making workshop
into the rhythms of the Hearth, this Earth &   Divine Align…
This invitation is for the One being called to be a Drum carrier & journey with a Shamans tool.
I look forward to joining in circle to work together on the creation of a Drum, this is a prayer Drum created in sacred space with sacred thought and heartfelt intention. This sacred time is filled with intuitive, spontaneous, fun and joy which is maintained through the whole process.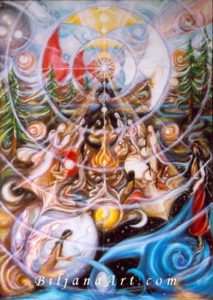 Biljana will be sharing medicine and prayer songs with you during the creation and birthing of this sacred creation.
After the creation of the Drum, the Drum will need to rest for few days. After those days and on July 18th we gather together for the birthing of and feast of the Drum ceremony.
At this workshop you will also hear some traditional teachings, also on how to handle and take care of your Drum friend." birthingstar@gmail.com
two-day workshop: involves- the creation of the Drum and Birthing of the Drum/initiation ceremony
Day and Time: July 14th and July 18 from 11am (3 to 5 hours)
Investment:
Blessings
Biljana Birthing Star