S. J. Tucker
A performer well loved by witchy events at home and abroad since 2002, the singer-songwriter came flying out of the Memphis music scene, guitar in hand and voice at the ready, and her feet have hardly hit the ground since. She describes her music as a genre of Jazzy Snazzy Fairytale Folk Rock. Whether you found her through solid crowd favourites like "Firebird's Child" and "Hymn to Herne", or you're just encountering her spunky, healing spirit live on stage for the first time this year, S. J. (Sooj to fans and friends) has a song for you. Witches & Pagans magazine called her "the face of neo-tribal Paganism" and The Wild Hunt calls her work a surprise and a delight.
Sunday on the stage 11 am
you can find music by S. J. here
learn more about S. J. here
Balladcraft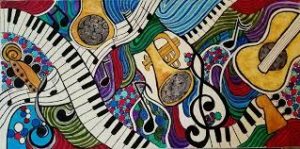 Music, Stories, and Magick Old and New Everyone loves a good story. We've all felt the spell that a story or song can cast upon us as it is shared. Those of us who don't fancy being stolen away by the faeries before we're good & ready have tons of respect for songs & stories handed down through time. Join Sooj & friends as we investigate some good old LONG ballads reborn, as well as some good NEW ballads you may not have heard before! As time allows we'll also share the stories behind those ballads & give a few presentation tips for aspiring bards & balladeers!