Weekly Psychic Prediction
April 13-19-16
Seer Tamare White Wolf ~ Predicts

Love it's a complicated thing really sometimes it's a spark and spurs on a quick compassionate response. Sometimes it's a slow growing bush that turns into a tree, that last year's and years providing fruit and shelter for many. Other times it's a roller coaster uncertainties at every corner! Maybe it's time to drop your expectations and your ego and just allow. Friendship may be the first response to a true love connection n you will be victorious if that's how you behave in this relationship. Sometimes it's nice when a woman takes the lead to some degree that may work, however remember to pull back just enough to let the other one catch up! Don't be afraid because you won't be disappointed. Things are going in the right direction and slow and steady will win this race. Maybe it's time to be single again or  if u have been flying solo for a time, get back in the game!

Health- New regimens and routines and maybe even a new trainer with great ideas about how to get fit and/or how to heal a pesky stubborn health issue will come along. This new regimen will require your attention and commitment and if you think you hurt today just wait for tomorrow.  The more effort you put into this the better your results will be in a quick and swift time span.
One step at a time but take the step outside for long walks, swimming, stretching, and exercise will make you feel energetic and satisfied with yourself. Feel the burn and be happy you have it in you to do so. Looks like you might get a little cooking or food prep teaching this week too! As a diet menu removes foods that don't serve your highest good and implementing foods that raise your metabolism a couple of weeks of this and you'll feel like a new person.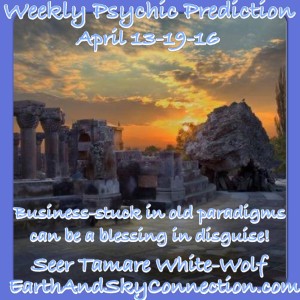 Business-there's always a lot to do,  so much work! Are you having fun, yes you should be even if it is work? It's likely you're attached to old regimens and paradigms created years ago, you don't have to stick with it an/or small adjustments may make all the difference. Sticking with the old may seem like a bit of a cop out, but after a few revisions and tweaking honestly you'll be glad you did.  As things do begin to move in the direction you have envisioned moons ago. So bottom line don't throw out the baby with the bathwater! Things are going to pay off big time this week n you'll be very popular amongst both your peers and your clients so keep your eyes on the prize, as all is well!
#Love #Health #Business #WeeklyPsychicPrediction #TamareWhiteWolf #Witch #Wicca #Druid #Shaman