Motherwort Tincture and Herb
Some Witchy names for Motherwort are Lion's tail and Heartwort. As the traditional name indicates, motherwort has been used for heart related ailments.
It is traditionally used as an anti-inflammatory, ( arthritis, bronchitis, asthma, cholesterol, headaches)  anti-spasmodic, (muscle spasm, heart stress) astringent, (detoxing of skin, allergy response n digestion system) diuretic, (swelling, bladder, kidney and liver cleanse) it has been known to help with blood circulation/pressure and can be beneficial for relieving stress on the heart muscle.
Another of motherwort's uses is to improve fertility and reduce anxiety associated with childbirth, postpartum depression, and menopause but do not use during pregnancy.
Come on in to The Witchy Garden Shoppe, Shamanic Healing & Learning Centre at 461 Penetanguishene Rd in Barrie, Ontario for more information about the magical benefits of motherwort! We are open 5 days a week @ this location closed on Tuesdays and Wednesdays!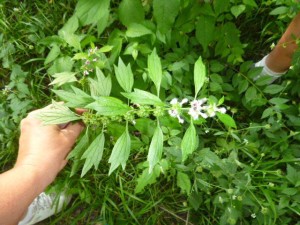 Learn more about how use these healing herbs in our up and coming workshops, let us know if you are interested in both… First Aide Herbs June 6th, 5pm-9 & 7th, 9am-1 and June 20th 5pm-9, 21st 9am-1 Blends, ‪Concoctions‬, ‪Tinctures‬ & ‪Infusions‬!