Michel LaFontaine – Drumming Clinic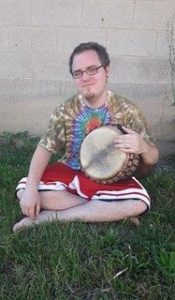 Come and join Michel Lantaine – Drumming Clinic
Michel LaFontaine  went to his first pagan festival in 2006 and it was there that he was first introduced to power of the drum circle. The energy that is created when everyone comes together as equals, sending vibrations into the earth and sky in one voice.. that is truly a gift.
It's a gift that I want to give alongside all of you, and it's a gift that we receive from each other in that moment and in our memories for years to come. Listen learn and love Drum Clinic Michel will be doing a drum clinic, where he will share his amazing skill to teach others just hows its done! If you got a heartbeat he can teach you this ancient art and practice of drumming with your both your soul and spirit!
Don't let his youth sway you honestly one of the best drummers around, in fact was welcomed by Ginger Doss to perform at KG this last summer, so you get what we mean!
Way to go Michel!
So! Bring your drum and come along and learn Thursday, July 14th and Friday July 15th at noon.