Metamorph
Duo Margot Day & Kurtis Knight
Offering Transformation thru music
Dance, sing, and be part of the magic with Metamorph duo Day & Knight. Mixing music, love and mysticism with their Metamorph songs, videos and concerts. Metamorph is Pagan Pop Electronic Dance.
Day is a songstress and pagan. Intertwining her multi-ranged vocals and flute Day is well acquainted with the inner workings of magic. Listening to her muses Day channels melodies and lyrics into a fun and metaphysical music experience.
Multi-instrumentalist Kurtis Knight continues to bring his own special magnetism, melding with Day. Knight offers a beautiful presence with keyboard samples, loops, soundscapes, guitar and dance beats. His sense of timing, fun, ambiance and ritual expands the Metamorph experience.
Day & Knight have been making music together since 1999. The electronic Pagan Pop SACRED CD, then Ladybug, followed by fantasy rock mOss circle.
The telepathic and transcendent connection that Day & Knight share weaves love and magic throughout their songs and concerts.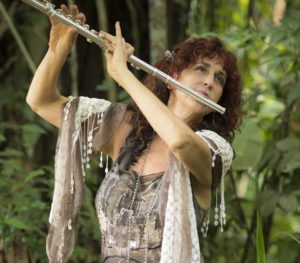 In June 2017 Metamorph released The 4 Elements EP with these 4 songs; The Wave (water), Fire Monkey (fire), Wings (air) and Mindblown (earth). "The elements are also metamorphic, water evaporating into air, earth being transformed by fire to lava. Without change, life is not possible," Day says.
Metamorph music invokes a state of flux, transformation and, ultimately, unification. Inviting the feeling of community to gatherings and festivals. With spontaneous bursts of art, dance, magic and love, held together by the music, and capable of awakening human potential and igniting positive energy.
Metamorph is "music for morphing." Day & Knight invite the listener to "become the wave, the phoenix, the butterfly, the pirate."
Metamorph grew from the complete transformation Margot Day made after an illness forced her to experience first hand what it was like to be a medical and metaphysical miracle. Watch the story unfold on this mini-documentary:
Metamorph videos and concerts featuring music videos The Wave and Fire Monkey:
Listen to Metamorph music "The 4 Elements" EP > HERE
We welcome Metamorph to Paganfest for the first time, likely will not be the last!
Sunday 7:30pm @the Stage