Lord & Lady Beltaine Stories & Ritual
Tamare White-Wolf – Tamare is a Shaman Spiritualist, a scholar of all that rings true! Native, Celtic and European decent with psychics on both sides of her family for 5 generations of more! She is a teacher of many esoteric subjects with her longest running class being her Tarot and Psychic Development classes of over 20 years, next is her many Shamanic subjects including Healing with Herbs. She is the founder of these Paganfest Events, with this Beltaine celebration being the 20th over a 8 year span! Also owner and creator of the fabulous Earth and Sky Connection Shoppes, one located on the property of this event,our little Witchy Garden Shoppe! Come visit it while you here!
She welcomes you to share and learn more about our ancestors past ways by joining her and her dear friend Ellen the witch as they spin some tales for you about the wonders of this spring fire festival!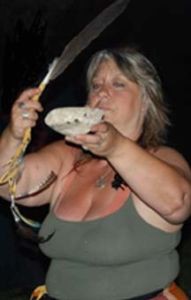 Ellen Irvine – Ms Ellen is an eclectic witch who from a young age realized she didn't fit in with the mainstream muggle society. She identifies strongly with her Irish/Scottish Celtic heritage.She has an extensive background and had joined the Hamilton Pagan Community for the past 15 years.She is an experienced Seamstress who has created costumes for not only festivals but also spectacular Medieval Weddings and handfastings, also various pagan ritual wear. Ellen has actively participated in many of the Pagan festivals in Ontario. She is a practitioner of Reiki .and is furthering her abilities in her energy work. Ellen is always seeking further knowledge and is proud to claim the title " Witch".  5 Pm Main Fire Pit