Greetings
Tamare White-Wolf & Skylar Pink (Mother & Son)
Join these folks as they welcome you to the The PaganFest Series which is held Yearly on the land of  Earth and Sky Connection, 461 Penetanguishene Rd in Central Ontario just 40 minutes from Toronto you will find us off the 400 / Highway 11 in Barrie!
Theses are Fire Festivals in Celebration 3 times annually ~ Spring, SEEDFest, May 1st Weekend, Summer, Paganfest, July 3rd WEEKEND (6 days),  Fall, MuseFest Oct 1st Weekend
Psychics, Esoteric Teachers, Shaman Spiritualists & Energy Healers
Tamare White-Wolf created, owns and operates BOTH Earth and Sky Connection Shoppes since 1996. She is joined by her son Skylar now that he has come into his own! Together they offer you some amazing energy to enjoy as you find your path or as you require support and resources!
Our Shoppes~ One in the Heart of Downtown Barrie, The ALTAR~Native Spirit Shoppe and the other one here on the land of the festival, we call it The Witchy Garden Shoppe, Shamanic Healing & Learning Centre, complete with crystals, books, tarot, jewelry, live and dried herbs, smudges, tea blends, tinctures, slaves and potions .
Tamare is a scholar of all that rings true! Native, Celtic and European decent with psychics on both sides of her family for 5 generations of more! She is a teacher of many esoteric subjects with her longest running class being her Tarot and Psychic Development classes of over 20 years, next is her many Shamanic subjects including Healing with Herbs. She is the founder of these Paganfest Events, with this Beltaine celebration being the 23rd fest over a 8 year span!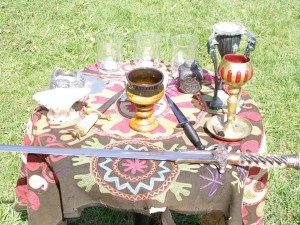 Skylar is often in one of our shoppes as a clerk and clergy to many, he may be young but his wisdom comes from the ancestors. Skylar an Aquarian has a nice mixture of spirit and science in his outlook on things you will find him refreshingly honest, compassionate, helpful and with a lively humorous disposition! He is also the muscle behind this amazing property as he keeps the grounds pretty much on his own! Don't forget to thank him, oh and please be mindful of the garbage you create, putting it in the containers provided will make him very happy! He will likely be serving you food too at the fry wagon so if you need anything you can ask him, he will be delighted to assist! If you don't find him there check the fire pits as he usually stocking them too, he is happy to accept your assistance in keeping them going to so if you able to tend a fire with care and mindfulness please offer him a hand!