ERIC MANDALA Performs @Paganfest July 17-22, 2019
Producer, Composer, Multi-Instrumentalist, Instrument Maker, Visionary, Founder of the band "Mandala" will bring you to another world through ecstatic dance while singing Kirtan. ERIC MANDALA born in Ottawa Canada, Founder of "Mandala World Music" an international ethnic fusion world music group with people from all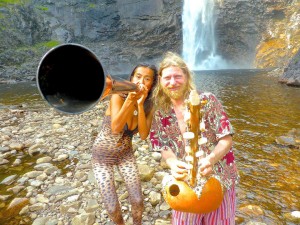 around the world. He uses traditional influences of music and art to create new and dynamic original material.
He has traveled around the world collaborating with hundreds of artists under the name Mandala. His focus is to bring sacred styles of art and instrument together for a new fusion in this multi-cultural world.  ERIC MANDALA has played on, produced, and recorded over 15 albums around the world.
He has played Festivals around the world in 6 continents: Salvador Brazil Jazz Fest, USA: Burning Man, Earth Dance, Bhakti, Mystic Island Fest, Eclipse Fest, Mardi Gras, Carnival, Indidjinus Fest, Tribal Vision Fest, Dragonfly Fest, In the Light Fest, NZ: Luminate Fest, Australia: Kuranda Roots Fest, Solstice Fest, Canada: Space Gathering Fest, Kaleidoscope Gathering Fest, Wiccan Fest, Naturopolis Fest, Y2K-X Live Looping Fest, The Fringe Festival, The Mad River Fest, Sonic Fest, Japan Tsumugi Fest, Kyoto International Fest, One Earth Fest, Yamauto Fest, 7 Colour Fest, THe Eden Festival , Peace Village Fest, Mataharythm Fest, Moon Circle Fest, Antaru Fest, Rakuon Rakujitsu Fest, United Cultures Fest, Earth Day Fest, Tanabe Connection Fest, Universal Language Fest, Live Life Fest, Tribal Revival Fest, C.K.S. Taiwan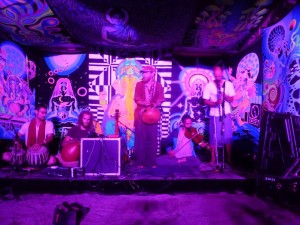 Lantern Fest, Dan Shui River Fest, Spring Scream Fest, Riverside Fest, Malioboro fair, Arma Museum, Parihaka Festival, Prana Festival, Shivaratri Fest, & Cosmic Convergence to name a few… He has shared the stage with such diverse artists as Shpongle, Micheal Franti ,Ganga Giri, Mamady Keita, EOTO (String Cheese), Beats Antique, Desert Dwellers, Adham Shaikh, Shimshai, Rising Appalachia, Chris Berry, Jaya Lakshmi & Ananda, David Starfire, Random Rab, The Human Experience, Phutureprimitive, Kaminanda, Epizo Bangoura, Fantuzzi, Jah Levi, Dachambo, Delhi2Dublin, Androcell, Wild Marmalade & Richard Perry of Arcade Fire to name a few…
When performing solo he does live looping & produces Electronica using Ableton Live & plays over 100 ethnic and modern instruments from around the world. He sings in Universal Language mixing ancient tongues and ethnic styles of vocals with modern sound scat poetry. He builds & plays African harps like the Kora & kamale n'goni. We hope you enjoy listening to the music because they sure love to make it! If you haven't seen this original show yet be sure to catch it as soon as possible!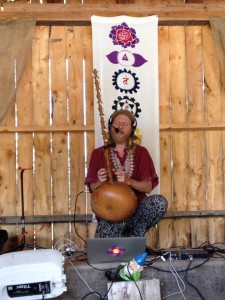 He will also be doing a workshop, click here to learn more.
He will be performing around 7:30pm Friday, July 19th.