Drum Workshop With Tuatha Dea's Danny Millikin
(In case you don't realize, Danny is the leader in our featured drum band this year @ Paganfest, Tuatha Dea)
These are the basics of the Drum Circle Workshop Interactive rhythm event.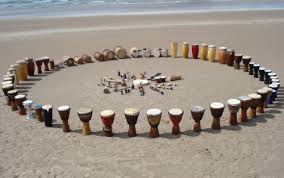 Drum Facilitator: Danny Mullikin From Tuatha Dea
 Wanna learn some real groovy fun beats? Wanna chill and listen to some great music and have a good time with your friends and family? Maybe you would even like to hold your own drum
circle
one day! Join in the fun with Danny Millikin, leader of our featured band Tuatha Dea. If you want to get in on the rhythm, bring your drums and other percussion instruments with you to fest. It is going to be a blast and a wonderful learning experience!
The central purpose is to enhance individual creativity and foster community through the interlacing of rhythm and non-verbal communication methods. This workshop will include a basic introduction to African drums, basic rhythm techniques and circle etiquette. Its aim is to culminate in a symphonic and unifying rhythm event.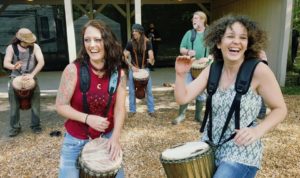 This event encourages the participation of both novice and experienced drummers alike (no professional experience required!). This is a NON-TRADITIONAL workshop and is intended to elicit self expression and integration, as opposed to teaching traditional African rhythms. Heartbeats are the foundations of rhythm and know no gender, race or creed. Everyone can gain something from this event. 
All heartbeats are welcome to join the circle, and also there is no experience of any level is required. Portions of this workshop will relate to the relationship between drummers and dancers, dancers are encouraged to participate as well. All percussion instruments are provided, but please feel free to bring your own instruments if you would prefer to use your own.
Saturday @ 1 @ main Fire Pit