BBQ & Pot Luck Celebrating 20 Years
Exciting times are before us, much has changed since the 90's when Earth and Sky Connection was conceived by Tamare White-Wolf. As a young single mother, Psychic and Shaman Spiritualist this career choice seemed the most obvious, while having a young son in tote, it gave her the ability to create an independent living for herself and son Skylar, doing what she knew from her heart.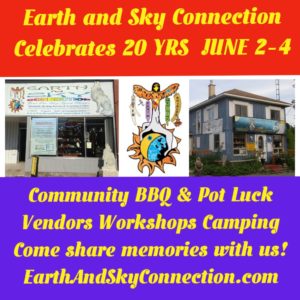 During these past 20 years, Tamare raised Skylar alongside of her beloved shoppe, Earth and Sky Connection's many spirited activities and events, from pow wows to festivals. This career choice enabled them both to share in many magical everyday occurrences filled with many so called coincidences and synchronisaties. These fantastic life changing spiritual experiences and messages have been the norm in this wonderful pagan lifestyle they have loved, lived and learned together.
Many of you watched our rise and fall and rise again, as fires, floods, health issues, road closures, failed relations, changing management, near bankruptcy and with that gossip from the mean spirited fence sitters, all trying to snuff us out! We rose over and over again with resilience, dedication to the cause, devotion to creator, hard work, focus, and lots of love in our hearts we overcame all the odds!
The 20th Anniversary of Earth and Sky Connection will conclude with Tamare's son, Skylar Pink taking the lead from here, both as Owner and Psychic. With Skylar being raised in the pagan ways and taught by his mother he is a natural choice to operate such a blessed shoppe. Tamare White-Wolf plans on a well deserved semi-retirement, (still available for all of her Psychic & Healing services) however with her focus on personal interests and travel.
Please join us for a weekend of community, celebrating all the years together.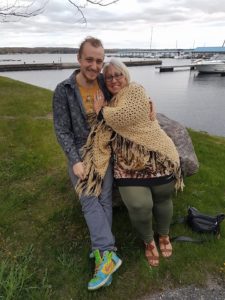 Our theme will be the MysStory (history) of
Earth and Sky Connection.
Please join us for a Community BBQ & Pot Luck (bring something for the table if you can, we will provide the BBQ meat ) share your memories with us, and help us celebrate the coming switching of hands!
Saturday June 3rd
Music, Workshops, Vendors, Sharing, Caring, Reminiscing & Laughter.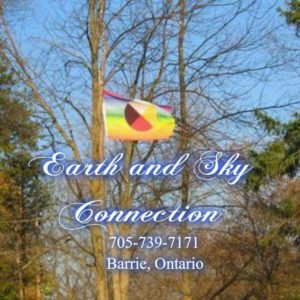 Camping and Vending available from June 2nd to June 4th only $50 
Much love my friends 💕 xoxoxo