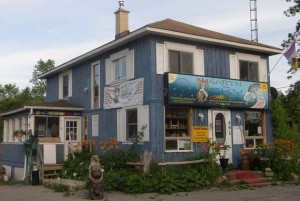 Earth and Sky Connection < This shoppe is now closed as we sold the property.
2 Shoppes Since 1996 ~ ALTAR-Native Spirit Shoppe & The Witchy Garden, Shamanic Healing & Learning Centre is located here at our Headquarters also home of The PaganFest Series.
We at Earth and Sky Connection are eclectic and recognize all spiritual paths as having something to offer the other. In picking up the old traditions and integrating them with our own personal belief systems, we then create the "Rainbow Path" or as some know it, the "Whirling Rainbow" as prophesied by Black Elk.  We see our selves as Rainbow Spirit Warriors following a Multi-Cultural Medicine Way on the path together! We offer you a glimpse of multi-cultural spiritualism through products, resources, services, workshops and events from around the world. We welcome you to join us for a visit at one of our Unique Shoppes. Enjoy the comfort of just being in a warm compassionate atmosphere where esoterically trained & educated individuals are eager to assistant you with your Individual "Path".
Earth and Sky Connection supports and celebrates activities and events that empower and uplift all individuals, Mother Earth and all her relations (Universal). Gatherings in the community create strong links and strong links create strong communities. We participate in community earth based events, SPIRITFAIRES, Solstices, Equinoxes, Earth Day, and other related national events.
We are often found enjoying and celebrating the Sabbats & participating at many Festivals such as The Paganfest Series  . When we take our shoppe off location, you may find us at Pow Wows, Town Fairs, Promenades, Street Events, Wellness Expos, Country Clubs and Reputable Psychic Fairs. PAGANFEST IS CANCELLED UNTIL FURTHER NOTICE!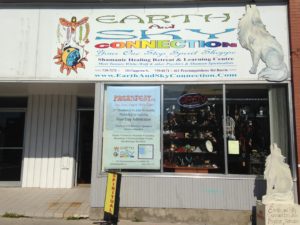 Please visit us in Barrie.  We do our best to honour our Earth Mother; take only what we need in a respectful way, and then give back ten-fold. Please participate we us in cleaning our Earth and in keeping Her healthy. On occasion, you will find Earth and Sky Connection spear-heading activities related to the environment, wellness, spirituality and Sabbats/Solstices. If a charity or not-for-profit group needs support or assistance, (such as Site-41) we certainly will be happy to see what we or our associates may provide. Suggestions on this subject will be seriously considered, please feel free to e-mail us. We will get back to you as soon as we can.